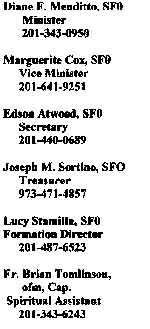 FRATERNITY MEETING:
Thursday, September 11, 2003


MEET IN CHURCH FOR MASS AT 7:30 PM.
This month we will have ELECTIONS for the Fraternity Council.
( Click here to read about Fraternity Offices.)
All professed members may vote. ALL MEMBERS are exhorted to attend.


SWEET REMINDERS: Ramona Torres and Pat Franz.
If you are listed above, please call Marguerite if you cannot attend.
HEALTH AND WELFARE:
Rose Atwood; Maria Amato and family; Annarumma family; Karen Ferrari and family; Marion Hartmann; Connie Ricci; Marie Sortino; Josie Tauriello; and the Licameli family.
Special intentions: Frank Cavallo, Diane Menditto, Marie Sortino, and the Tumminia Family.
Family Members: Helen Cavallo, Henry Ferrari; Ed McManus, Gary Menditto, Chris Terrafranca, Piedad Pazmino, Joe Berrillo, Geraldine Boxell, Gail Buckley, Wilber Hartmann, and Candida Cotto; Josefa DeJesús; Gladys Mitchell; Terry Gavin. Catherine Buckley; Manuel Crespo, Sr. and Manuel Crespo, Jr.
Repose of the soul of: Richard Wojcicki.

TREASURER'S REPORT: Will be available at the meeting.