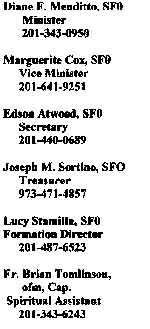 FRATERNITY MEETING: Thursday, June 12, 2003



PLEASE MEET IN CHURCH FOR MASS AT 7:30 PM.
Homily on St. Anthony - Blessed St. Anthony Bread will be distributed.
We will have a sharing about entering the SFO.
Please be prepared to share your thoughts with the members on the following:

What drew you to the Secular Franciscan Order
What keeps you coming?
What are your hopes for the fraternity?
SWEET REMINDERS: Joann and Natale Tumminia and Lucy Stamilla.


If you are listed above, please call Marguerite if you cannot attend.

HEALTH AND WELFARE: Rose Atwood, Maria Amato and family; Annarumma family; Karen Ferrari and family; Rosa Morales and family; Marion Hartmann; Connie Ricci; Josie Tauriello; Natale Tumminia and Licameli family. Special intentions: Frank Cavallo, Diane Menditto, Marie Sortino,and the Tumminia Family.
Family members: Henry Ferrari; Ed McManus, Christine Terrafranca, Piedad Pazmino, Joe Berrillo, Geraldine Boxell, Gail Buckley, Wilber Hartmann, Janice Acosta (Karen's sister), Anna Stamilla, André LaCap, Candida Cotto, Josefa DeJesús, Gladys Mitchell; Jim Philips; Samantha McManus; Richard Castelluccio; Terry Gavin; Mary Auricchio and Monica Coralluzzo.

Repose of the Soul of: Mary Filippelli

TREASURER'S REPORT: Will be available at the meeting.