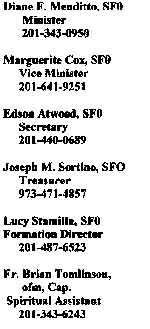 FRATERNITY MEETING:
Thursday, August 14, 2003


PLEASE MEET IN THE CHURCH HALL FOR EVENING PRAYER AT 7:30 PM.
(There is a Vigil Mass for the Assumption in SPANISH at 7 PM.)
This month we will be writing cards for our homebound members. Please bring a pen! Please bring prayer cards or bookmarks, so we can insert them with the cards. (Thank you, Pat Franz for this project!).
SWEET REMINDERS: Ramona Torres and Pat Franz.
If you are listed above, please call Marguerite if you cannot attend.
HEALTH AND WELFARE:
Rose Atwood; Maria Amato and family; Annarumma family; Karen Ferrari and family; Marion Hartmann; Connie Ricci; Josie Tauriello; and the Licameli family.
Special intentions: Frank Cavallo, Diane Menditto, Marie Sortino, and the Tumminia Family.
Family Members: Helen Cavallo, Henry Ferrari; Ed McManus, Gary Menditto, Chris Terrafranca, Piedad Pazmino, Joe Berrillo, Geraldine Boxell, Gail Buckley, Wilber Hartmann, and Candida Cotto; Josefa DeJesús; Gladys Mitchell; Terry Gavin. Mary Auricchio; Kathleen Buckley; Christopher Wojicki; Manuel Crespo, Sr. and Manuel Crespo, Jr.

TREASURER'S REPORT: Will be available at the meeting.