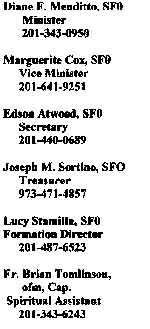 FRATERNITY MEETING: Thursday, December 12,2002



Advent Prayer Service and talk on Our Lady of Guadalupe.
FRATERNITY CHRISTMAS PARTY. Please bring a gift to be given to a nursing home patient.
Since refreshments will be served, be sure to call Joe Sortino to let him know if you will be there.



HEALTH AND WELFARE:
Maria Amato and family; Annarumma family; Rose Atwood; Emma Barranco; Karen Ferrari and family; Rosa Morales and family; Mary Filippelli; Marion Hartmann; Connie Ricci; Delores Spina; Josie Tauriello; and Licameli family. Special intentions: Frank Cavallo, Diane Menditto, Marie Sortino,and the Tumminia Family.
Family members: Marie Rose DeLorenzo, Ruth Franz, Rocco LoSquadro, Ed McManus, Mary Marinelli, Chris Terrafranca, Piedad Pazmino, Joe Berrillo, Geraldine Boxell, Gail and Catherine Buckley, Wilber Hartmann, Christine Bonia, John Pinto, Sr.; Norma (Ramona Torres's daughter)and Elizabeth Webster.

TREASURER'S REPORT: