ST. JOSEPH'S TABLE 2003

Click on each link to see a different slide show.
Best seen in Internet Explorer
Slides change every 6 seconds.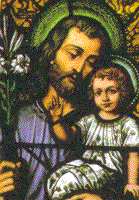 First Ten
Next Ten
Next Ten
Next Ten

History of the St. Joseph's Table
By Joe Sortino
Be sure to check out the pictures at the end of the page!


Parish Home Page