Fr. Pius Caccavalle Celebrates 60 Years of Priesthood
April 29, 2007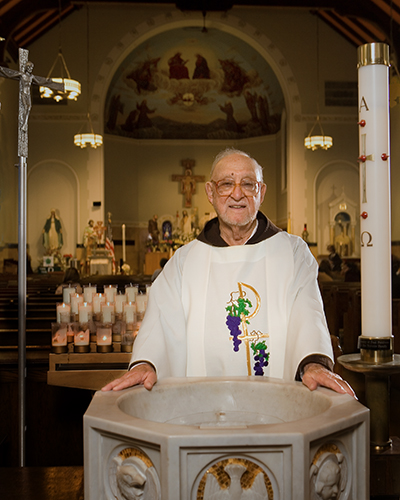 Photo by Bill Shaw
Fr. Pius Caccavalle, OFM Cap. celebrated his 60th Anniversary of Priesthood
with a trilingual parish Mass followed by a reception.

Fr. Pius received a degree in Canon Law from the Gregorian Institute in Rome in 1949. He was Pastor at St. Anthony's Parish in Passaic, NJ from 1964-1970. Later, he taught in formation programs for a number of years. Father has also served in a number of parishes as an Associate, Mt. Carmel - Passaic, St. Ann's - Hoboken, Immaculate Conception - Bronx and Mt. Carmel - Orange. As Spiritual Assistant to the Secular Franciscan Province of the Stigmata, he provided excellent guidance to the Executive Council. Following this he worked in the Marriage Tribunal as a Canon Lawyer for Marriage in the Diocese of Metuchen. His energy and enthusiasm inspired him to volunteer to serve for two years in Zambia, Africa teaching in the Formation Program when he was 70 years old. Fr. Pius is presently stationed at St. Francis Parish where he works with the Italian and English speaking communities.
CLICK HERE FOR A SLIDESHOW OF THE ANNIVERSARY MASS
St. Francis Parish Home Page
Other Parish Photos
St. Francis Fraternity Homepage
Thank you to Bill Shaw, Art of Photography, Hackensack for the Portrait of Fr. Pius.